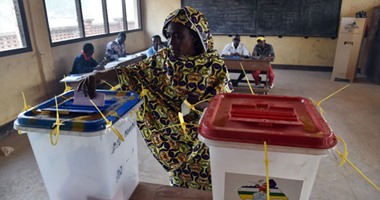 Voters in the Central African Republic will go to the polls today, Sunday, in presidential and legislative elections that are being held under threat of violence as the government tries to stem the advance of the rebels.
Militias opposed to President Faustin Arcang Tuadera, who is seeking to win a second term in office, have escalated their attacks since the Constitutional Court rejected many candidates, including former President Francois Bozize this month..
The crisis has exhausted many citizens in the diamond and gold-rich country of 4.7 million people, and has raised fears of a return to the worst acts of violence in its recent past, which include five coups and many incidents of rebellion since the country's independence from France in 1960..
Touadera was elected president for the first time in 2016 after a revolt three years earlier that toppled Bozize. He struggled to wrest control of large areas of the country from the hands of armed militias.
Successive waves of violence since 2013 have claimed thousands of lives and forced more than a million people to flee their homes.
Touadera is seen as the frontrunner among 17 candidates. A second round will be held if none of the candidates gets more than 50 percent of the vote.
Tuadera and the United Nations, which has more than 12,800 peacekeepers in the country, accused Bozize of being behind a rebel attack during which they briefly seized the fourth largest city in the country last week and led to a wave of defections from the army..
The authorities refused Bouzize's candidacy because he is facing an arrest warrant and UN sanctions for allegations that he organized assassinations and torture while he was in power.
Bozize denied the accusations and his party said it had nothing to do with the recent rebel attack.
Twadera's international security partners responded to the recent violence by sending equipment and troops, including 300 Russian military trainers and 400 peacekeepers from Rwanda.