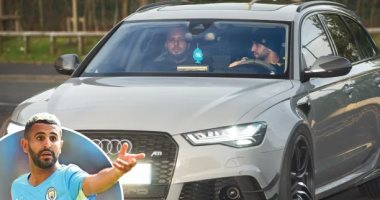 British press reports revealed that the Algerian star, Riyad Mahrez, Manchester City player, was banned from driving in England for 56 days, against the background of driving at a speed of 120 miles per hour on a highway.
The British newspaper, "The Sun", reported that Riyad Mahrez made a 120-mph offense on a highway, during the month of May, and was fined 2,500 pounds and banned from driving for 56 days, and that the penalty was taken against him during the current days.
The newspaper pointed out that Mahrez was driving his gray car worth 100,000 pounds, which has a top speed of 189 miles per hour, when he committed the crime.
Riyad Mahrez pleaded guilty to speeding last November and was punished by judges in Staffordshire on July 3, for not driving for a period, and this is the second time that Mahrez has committed a violation of the law.
Riyad Mahrez is preparing to face Manchester City against its host Leicester City, which is scheduled for tomorrow, Saturday, in the fourth round of the English Premier League for the current season 2021-2022.
The Algerian star joined Manchester City in the summer of 2018, coming from Leicester City, and participated with the Citizens in 146 matches in various competitions, scoring 40 goals and providing 38 assists.