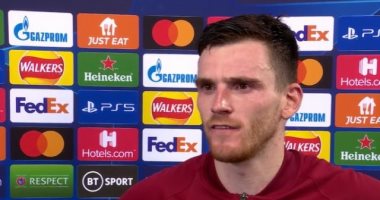 Andy Robertson, the Liverpool player, praised the exciting victory of the Reds at the expense of AC Milan, with a score of 3/2, in the match that brought them together on Wednesday evening at "Anfield" in the second group matches of the Champions League competitions for the current season 2021/2022.
"When you play against a great team, you have to be smart," Robertson said at the match's press conference.
Robertson added: "In the last ten minutes there was a lot of space, which is dangerous, especially when the wing starts to enter and after we closed the spaces there was no space for them to play."
"After Henderson's goal, they didn't have the chances, which is good," Robertson said. "We know how difficult the Champions League is and it is important to start with three points."
Robertson stressed: "We let them come back in the game in the first half and said how did we allow that to happen? It was important to go in strong and forget what happened at the end of the first half and we did that."
Robertson continued: "It was a difficult match, but we won the presence of my fans for the first time in a long time and it was great to have the fans."
Mohamed Salah is the sixth Liverpool player to miss a penalty kick and score in the same match in the Champions League after Michael Owen, Xabi Alonso, Steven Gerrard, Roberto Firmino and Sadio Mane.
Jordan Henderson scored Liverpool's third goal in the 69th minute, with a ground shot from outside the penalty area to land to the right of the Milan goalkeeper, the first goal of the Reds captain in the Champions League.
Mohamed Salah was substituted six minutes before the end of the match, and Alex Chamberlain participated in his place.
In the next round, Atletico Madrid will host AC Milan, while Porto hosts Liverpool on September 28.