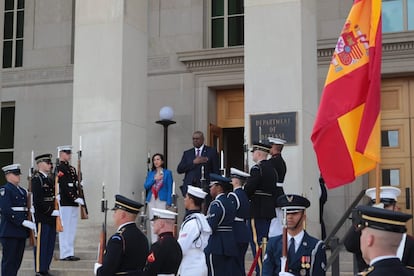 The Defense Minister, Margarita Robles, and the Secretary of State for Defence, Lloyd Austin, have prepared the summit that NATO will hold in Madrid on June 29 and 30, during the interview that both held this Thursday afternoon at the Pentagon.
At the beginning of the meeting, Robles described the military cooperation between the United States and Spain as "essential and fundamental" and assured that both countries are partners "in the defense of freedom and peace in the world." The Spanish minister called for "not lowering our guard" in the face of the different threats faced by the allies, stressed that the Russian invasion of Ukraine, which began on February 24, is an attack against all democracies and stressed that Spain has been sending military and humanitarian material to the Ukrainian authorities and will continue to do so.
For his part, Austin described Spain as a "steady ally" and highlighted "Spanish leadership" on NATO's southern flank, stressing that the Madrid summit —where the new Strategic Concept, the Alliance's roadmap will be approved for the next ten years, and Sweden and Finland will be invited to join the organization—it will be "a turning point" for building a new security architecture in Europe. The head of the Pentagon also thanked Spain for its commitment to increase its military spending to 2% of GDP by the end of this decade, and warned of the "destabilizing role" that the negative influence of Russia and China can have in Africa.
Before meeting with Austin, Robles laid a wreath at the tomb of the unknown soldier in Arlington National Cemetery and had lunch with Secretary of the Navy Carlos del Toro, political officer of the US fleet deployed at the base of Rota (Cadiz).
What affects the most is what happens closest. To not miss anything, subscribe.
subscribe