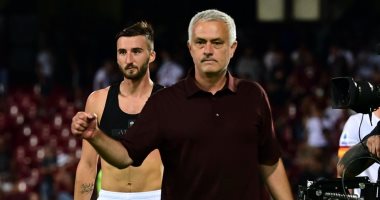 Portuguese coach Jose Mourinho will lead his 1,000th game in his coaching career, during his leadership of the Roma team against his guest Sassuolo, scheduled for 9:15 pm today, Sunday, at the "Olympico" stadium, in the third round of the Italian league "Calcio", For the current season 2021-2022.
During his training career, Mourinho led 999 games before tonight's match, winning 637 games, drawing 204 games and losing 158 games.
The Portuguese coach, nicknamed Special One, began his coaching career with the Benfica team and led it in 11 games, then he coached the Uniao Leiria team in 20 meetings, before he coached the Porto team, in 127 matches.
Mourinho took over the English team Chelsea in the summer of 2004, and led it in 185 games, then he left for Inter Milan and took over his training in 108 games, then moved to coach Real Madrid in 178 games.
He returned to lead Chelsea for the second time in the summer of 2013, and played 136 games with him, then left to coach Manchester United in 144 games, and took over Tottenham coaching in 86 games, and finally with Roma he led the team in 4 games.
The 58-year-old has achieved many individual and collective achievements during his career, as he won the Champions League twice, the first with Porto and the second with Inter Milan. He also won the English Premier League title with Chelsea 3 times, along with The European League title with Manchester United, and the Spanish League title with Real Madrid.
Roma began its Italian league campaign in the new season by defeating Fiorentina 3-1, and then beating Salernitana 4-0 in the second round.