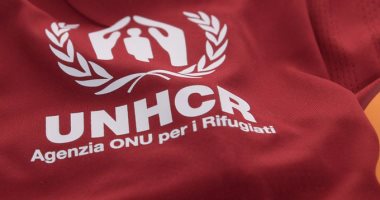 The Italian club Roma intends to wear the UNHCR logo on the sleeve of the shirt during its meeting with Sassuolo on Sunday in the Italian Serie A football competitions, to show support for the Afghan people who are going through tragic moments.
The club clarified in a statement issued today that the shirts will be offered for sale at an auction and all the money that will be collected will go to UNHCR initiatives to support the Afghan people.
According to the statement, Roma "is the first football club to promote a joint initiative with UNHCR to help the Afghan people, in support of children, women and men who are going through tragic moments."
This initiative came from the club's foundation, known as "Rome Cares", which decided to cooperate with UNHCR on the occasion of the 70th anniversary of the signing of the Geneva Convention on Refugees.
The club noted that Afghanistan is going through an "acute humanitarian crisis" and that since the beginning of the year an estimated 570,000 people have been forced to leave their homes.
According to the statement, there are "a total of about 3.5 million displaced people who need urgent assistance, and among them about 80% are women and children, a part of the population that pays the highest price."