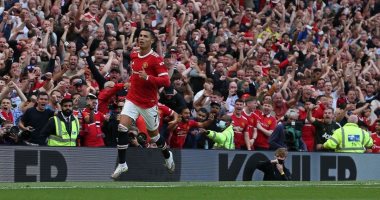 Press reports revealed that Manchester United striker Cristiano Ronaldo hopes to retire within the walls of Manchester United and turn to a position in the team to be a coach for his son Cristiano Junior, who is currently practicing football..
Cristiano Ronaldo, 36, signed a two-year contract with Manchester United, with the possibility of extending it for a third season, last summer, after leaving Juventus to return to his former team in England after an absence of 12 years.
While Manchester United coach Ole Gunnar Solskjaer believes that the Portuguese star is able to continue playing at a high level until he reaches 40, which means that he can remain in the team for a fourth season..
The English newspaper "Sun" confirmed that Cristiano Ronaldo is considering entering the world of training and leading Manchester United in the future, the team that was credited with introducing him to the world as a star when the 18-year-old coach, Sir Alex Ferguson, brought him from Sporting Lisbon in the summer of 2003..
Cristiano Ronaldo may coach his 11-year-old son, Cristiano Jr., who is currently playing in the ranks of Manchester United's junior categories, coming in turn from Juventus..
Cristiano Junior was tested by Manchester United's junior coaches and appeared smiling while taking pictures with the 10-year-old son of his Serbian father's colleague Nemanja Matic..
Cristiano Junior previously played in the youth ranks of Juventus and scored four goals on his first appearance at the age of nine.
A source told the British newspaper: "Cristiano Ronaldo previously said that he returned to Manchester United to help them win titles, but in his thought he will play with them for more than the current decade, he is always at his best and loves to show that nothing is impossible.".
The same source added: "He is obsessed with football and knows everything about the game. A lot of players started their coaching careers at Manchester United, so he thinks this might be a good way to start the second chapter of his career.".
And Cristiano Ronaldo previously expressed his desire to see his son, Cristiano Jr., a great football player, saying: "I want him to be a football player because he has a passion for sports, as he is a competitor who hates losing.".