The global "Transfer Market" website has published an infographic showing the historical numbers that Portuguese legend Cristiano Ronaldo, the new Manchester United player at the international and club level, broke since 2014 only when these numbers were controlled by other players.
Cristiano Ronaldo succeeded in becoming Real Madrid's all-time top scorer with 450 goals, after breaking the legend Raul Gonzalez's record with 323, also breaking the Champions League's historical scorer with 134 goals, also surpassing Raul with 71 goals, who was in the lead in 2014.
Cristiano Ronaldo recently broke the Iranian record for Daei, the historical top scorer at the national team level, after he reached the 111th goal, while Daei has 109 goals.
Ronaldo also became the historical top scorer for the European Nations Cup with 14 goals, surpassing French legend Michel Platini with 9 goals, as well as the historical top scorer for the Club World Cup with 7 goals, beating Delgado's number with 5 goals.
Ronaldo returned to Old Trafford after 12 years of absence, as Cristiano Ronaldo spent his first day at Carrington after returning to the club before the end of the summer transfer period.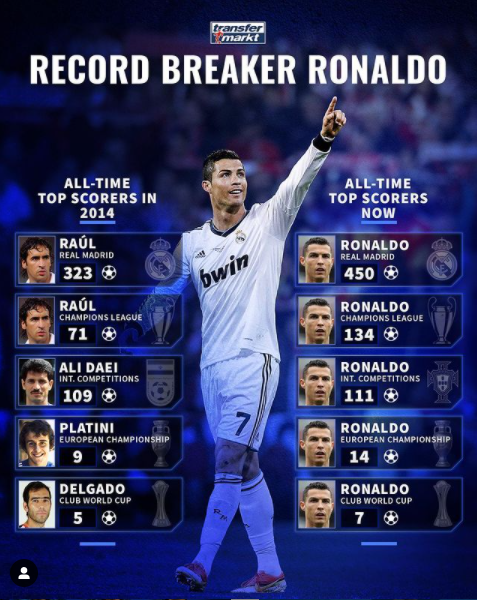 Ronaldo numbers according to Transfer Market