The Portuguese player, Cristiano Ronaldo, managed to break the engagement with the Argentine legend, Lionel Messi, the star of the French team Paris Saint-Germain, in the European Champions League, after the first succeeded in adding a new club to the list of his victims who managed to score against them during his football career in international stadiums.
According to the global network "Skawaka" specialized in numbers and statistics for football, Cristiano Ronaldo scored against 37 clubs after scoring the killer goal against Villarreal yesterday in the Champions League matches in the confrontation that ended with Manchester United winning 2-1.
And the global network indicated that Lionel Messi was able to equalize with Cristiano Ronaldo before yesterday's match, after he scored Paris Saint-Germain's second goal against Manchester United.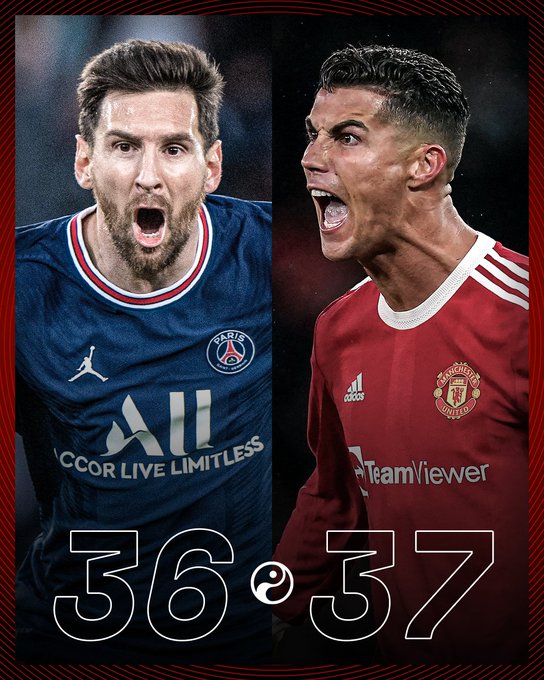 Ronaldo breaks a joint record with Lionel Messi in the Champions League
In a related context, according to the official website of Manchester United, Cristiano reached his 900th club football match against Villarreal, and scored 678 goals during that amazing period, with Sporting Lisbon, Real Madrid and United.
Ronaldo also made his debut in the Champions League in 2003 at the age of 18 years and 238 days, where he participated against Stuttgart under the leadership of Sir Alex Ferguson.
Since then, he has scored more goals in the tournament than any other player, with 135 goals during his time at United, Real Madrid and Juventus.
Cristiano Ronaldo has become the record holder for the most participating player in the history of the Champions League, as he raised his score to 178 games, surpassing former Spanish goalkeeper Iker Casillas, who shared the number with him with 177 games each before today's match.
Ronaldo equaled Casillas' number after his participation in the last European confrontation against the Swiss Young Boys, where the Don scored his first appearance in the Red Devils shirt in the Champions League after returning to him during the last summer transfer period from Italian Juventus.
Cristiano Ronaldo is the all-time top scorer of the European Champions League with 135 goals in 177 matches he previously played in the tournament before the Villarreal match.