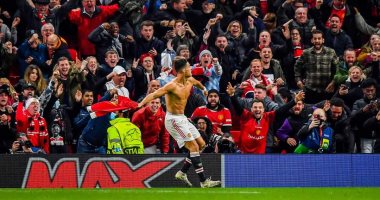 Portuguese star Cristiano Ronaldo, Manchester United striker, scored a special number, after scoring the goal of his team's deadly victory, yesterday, Wednesday, against Villarbal, Spain, at "Old Trafford" in the second round of the group stage of the Champions League, in the meeting that ended with United victory with a score 2-1.
The "Opta" network reported that no player scored more decisive goals to win in the +90th minute in the history of the Champions League than Cristiano Ronaldo with 3 goals, equal to Sergio Aguero, the current Barcelona and former Manchester City star.
Cristiano Ronaldo (36 years and 236 days) is also the second-oldest Manchester United player to score in a European Championship at Old Trafford, after Brian Robson against Galatasaray in 1993 (36 years and 282 days).
Ronaldo succeeded in disengaging the Argentine legend Lionel Messi, the star of the French team Paris Saint-Germain, in the European Champions League after the first succeeded in adding a new club to the list of his victims who managed to score against them during his football career in international stadiums.
According to the global network "Skawaka" specialized in numbers and statistics for football, Cristiano Ronaldo scored against 37 clubs after scoring the killer goal against Villarreal yesterday in the Champions League matches in the confrontation that ended with Manchester United winning 2-1.
And the global network indicated that Lionel Messi was able to equalize with Cristiano Ronaldo before yesterday's match, after he scored Paris Saint-Germain's second goal against Manchester United.
Ronaldo

Cristiano reached his 900th club football match against Villarreal, scoring 679 goals during that amazing period, with Sporting Lisbon, Real Madrid and United.
Ronaldo also appeared for the first time in the Champions League in 2003 at the age of 18 years and 238 days, where he participated against Stuttgart under the leadership of Sir Alex Ferguson..
Since then, he has scored more goals in the tournament than any other player, with 136 goals during his time at United, Real Madrid and Juventus..
Cristiano Ronaldo became the record holder for the most participating player in the history of the Champions League, raising his score to 178 games, surpassing former Spanish goalkeeper Iker Casillas, with whom he shared the number with 177 games each before the Villarreal match yesterday.