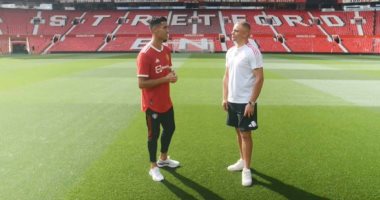 Portuguese star Cristiano Ronaldo, returning to Manchester United during the summer transfer season, confirmed that he seeks to achieve the English Premier League title and all possible titles with the Red Devils, before playing his first confrontation in the United shirt.
Ronaldo is preparing for his first appearance with Manchester United, during the confrontation with Newcastle United, which is scheduled for tomorrow, Saturday, in the fourth round of the English Premier League.
Speaking to Wes and Brown, former United defender, at Old Trafford, Cristiano Ronaldo said: "As I said before, the past has been great and I achieved many things when I wore this shirt many years ago, but I'm not here now for vacation, I'm here to win from new".
Ronaldo continued, "I am ready and I think I will be a great addition in the next three or four years. This is a good opportunity for me, the fans and the club to take a step forward."
Today, Thursday, Cristiano Ronaldo participated in the training of his Manchester United team this morning, amid great media interest, in preparation for the match against Newcastle at 4:00 pm next Saturday.
Ronaldo returned to Old Trafford after 12 years of absence, as Cristiano participated in training at the Carrington training headquarters after returning to the club before the end of the summer transfer period.
Ronaldo left international football with Portugal early due to the suspension for accumulating yellow cards, and he trained with Manchester United on Wednesday morning in preparation for the match, and he can still start against Newcastle or be a substitute..
He's 𝗵𝗵𝗺.

❤️ @Cristiano
#MUFC | #HereWeBelong pic.twitter.com/PyHUw8q9yy

— Manchester United (@ManUtd) September 9, 2021