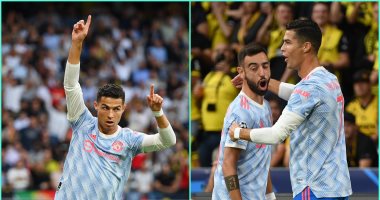 Portuguese star Cristiano Ronaldo, Manchester United player, scored the first goal against Swiss Young Boys, in the 13th minute of the match currently being held between them at the "Suis Wankdorf" stadium, in the first round of Group F of the Champions League for the current season 2021-2022. As a result, Man United led 1-0.
The Portuguese star, Cristiano Ronaldo, was at the head of the Man United squad in the match tonight, as the Don scored his first appearance in the Red Devils shirt in the Champions League after returning to him during the last summer transfer period from Italian Juventus.
The Manchester United line-up against Young Boys was as follows:
Goalkeeper: De Gea
Defence: Lindelof, Harry Maguire, Luke Shaw, Wan-Bissaka
Midfield: Paul Pogba, Bruno Fernandes, Fred
Forwards: Jadon Sancho, Cristiano Ronaldo, Van de Beek
Manchester United will be armed in today's match with Portuguese star Cristiano Ronaldo, the historical scorer of the European Champions League with 134 goals, after he returned to the arms of the Red Devils this season.
Ronaldo led Man United to a great victory over Newcastle United, 4-1, in the match that brought them together at Old Trafford, in the fourth round of the English Premier League.
Manchester United is seeking to win to ensure competition for the final price in front of the stubborn duo Villarreal and Atalanta, rivals with him in the group competitions, who meet today as well..
Manchester United were in one group with Villarreal, who snatched the European League title last season 2020-2021, on penalties.
And Man United managed to win against Young Boys, in the two matches that brought them together in the Champions League in the last period, as tomorrow's meeting is the third confrontation between the two teams face to face.
Manchester United met with Young Boys in the group stage also in 2018, where they won the first match in Switzerland, with three goals without a response, scored by Paul Pogba (two goals) and Anthony Martial.
The Red Devils also managed to defeat the Swiss team in the second match at Old Trafford, with the goal of bearing the signature of Marouane Fellaini.