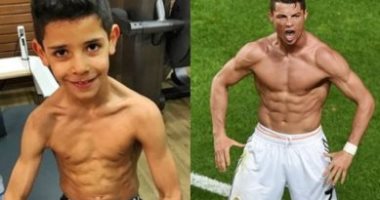 Cristiano Ronaldo's mother Dolores Aveiro thinks her grandson is better than his father when he was his age because he had the Manchester United star as a teacher.
Aveiro expects Cristiano Junior to reach the same levels as his father and is in dire need of the 11-year-old playing for Sporting Lisbon in the future..
Ronaldo, the greatest player in the world ever, scored five golden balls, scored 678 goals for clubs, and won many titles at the club and international level..
And the British newspaper Daily Mail published Aveiro's comments in the Adin de Liao podcast, in which she expected her grandson to follow in his father's footsteps while also hoping that he would fulfill her dream of seeing her family represent Sporting again in her life..
Aveiro said: "Ronaldo should come back to Sporting, for me he will be here. He loves to watch Lisbon matches. I already told him, 'Son, before I die I want to see you come back here.'"
And Ronald's mother continued, "Let's see, but if it wasn't him he would be Junior! At his age, he plays better than Ronaldo at that time, Cristiano didn't have a coach, but today he is his son's mentor."
Junior is the eldest son of Ronaldo and trained with his father at Manchester United after spending two years in the Juventus academy.
While in Turin, Cristiano Ronaldo Jr. scored some impressive numbers for the U9s, scoring 56 goals in 35 games, while providing 26 assists last year..
It is promising to see the young man gain his father's ability to score goals, with a lot of expectations on the little boy's shoulders.
Ronaldo told DAZN in previous statements: "I would love for him to be a football player, because he feels a passion for this sport. He is a competitor and hates losing."
Until this season, Ronaldo has won five Champions League titles and three English Premier League titles in addition to the Serie A and La Liga titles. He also won the European Championship and the European Nations League with Portugal..