A number of Russian veterinarians managed to treat a dog that had lost all of its limbs after its feet were frozen in frost. She was a Russian citizen, Irina, was found last December, In 2020, a dog almost frozen in the village of Plastonovskaya near the Russian city of Krasnodar, and she was in very bad condition, After it lay for almost two weeks lying in the snow, where some tried to feed it but the dog did not respond, so Irina, a friend of animal rights activist, Marina Jabich, decided to take the dog to the clinic.
Russian doctors in Novosibirsk succeeded in installing four titanium legs on the dog and gave the dog new hope to continue her life normally, move around and play, according to the Russian Sputnik agency.
The beginning was for the doctors to determine the measurements and lengths of the prosthetic limbs through a series of examinations and pictures that were taken of the small dog. Preparing the dog for the prosthetics process for about a year, as the dog lost her muscles and was atrophied due to immobility, which required a previous preparation process through a long program of rehabilitation, including exercises conducted in the pool.
While the preparations for the operation took a whole month, and during the first operation, one prosthesis was placed within an hour and a half, and after a month, another three feet were placed in just three hours..
It is from the view that the dog will fully recover within a period of about one and a half to two months, and although she is currently limping, because she has not walked for a very long time, there are no indications of rejection or problems in the legs..
While a source revealed that a famous blogger with a page on "Instagram" requested the dog, Monica, to join his team in London..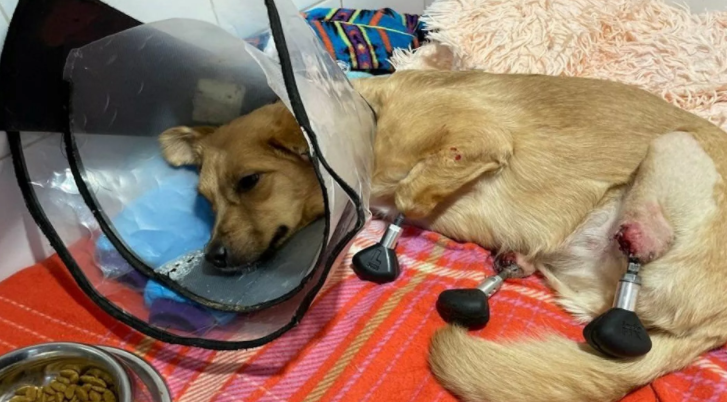 Bitch Monica