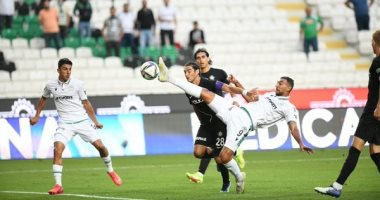 The Egyptian striker Ahmed Hassan Koca led his new team Konyaspor to beat its guest, the professional Altay team, in its ranks, the Egyptian striker Ahmed Yasser Rayan, with three goals against a goal, in the meeting that brought the two teams together today, Saturday, at the "Ataturk Stadium", in the fourth round of the league. Turkish for the current season 2021-2022.
Ahmed Yasser Rayan and Coca participated in the match, as the first entered with Altay starting from the second half, while the second was present in the 70th minute.
Koca scored Konyaspor's third goal in the 83rd minute, while Ahmed Yasir Rayan scored his team's only goal in the second minute of stoppage time for the match, from a header, taking advantage of a cross from a corner kick.
Ahmed Yasir Rayan scored his second goal with the Altay team this season, after he scored his first goal in his team's 4-1 victory over Alanyaspor in the second round.
Konyaspor's hat-trick was scored by Soner Dikman, Abdulkarim Bardaksi and Amar Rachmanovic in the 7th, 20th and 83rd minutes.
Konyaspor topped the Turkish league standings with 10 points, while Altay team's balance stopped at 6 points in seventh place.
It is worth noting that Ahmed Hassan Koca joined the Konyaspor team on loan from Olympiacos of Greece on the last day of the summer transfer market in Turkey.