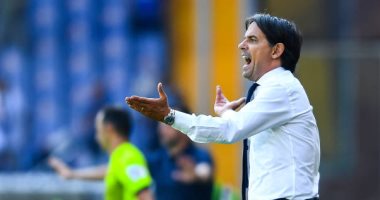 Inter Milan coach Simone Inzaghi expressed his deep regret after losing two valuable points against Sampdoria, after a 2-2 draw, in the match that brought them together at noon today, Sunday, in the third round of the Calcio competition, at the "Luigi Ferraris" stadium.
The Inter Milan coach said in statements after the match, "There are regrets because it is a match we wanted to win. We passed it twice, then we missed some goals with Perisic and Hakanoglu. It was simple occasions and then we took these two goals. There are regrets."
Inzaghi added, "We had to win, Sensei came in well, then we finished the changes and finished in 10, we are still progressing with confidence, today it was hot and the pitch is suboptimal, but in my opinion we developed a good match against a sly team."
On the performance of the Inter Milan players, Inzaghi commented, "It is normal that there is something to review, if a team like ours advances twice, they must take victory to their home, sorry but we move forward with confidence, we take what it was even if we want points. The three."
Regarding Sensi's performance, the Inter Milan coach said, "Unfortunately, he's not good, he came back from two sets and came in in the best way."
He continued, "The preparation was like this, with the help of substitutions, we knew that the match would start in the last half hour, and then unfortunately we found ourselves at 1, with two goals scored in this way, there was also the risk of being compromised, we take this point and hope to get the players back. Adjust the calendars a bit, we already have another important game on Wednesday."
On spending 75 days at Inter Milan, Inzaghi explained, "I found a very useful club, fans and team, we knew we might face difficulties, we scored 7 points in the first three days, we knew we had to fix some things through sales of very important players "But he made the club ready by taking players who were very effective in my idea of ​​football, in my head I wanted 9 points, but that's fine."
The Inter Milan coach ended his statements, saying, "Bastoni will undergo an in-depth examination tomorrow and it seems that Demarco is just contractions, for him there is optimism, Sensi and Bastoni are a little less."
It is worth noting that Inter Milan reached the 7th point in the Serie A standings, behind the leaders Napoli with 9 points, while Sampdoria reached 2 points in 13th place.