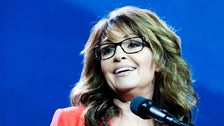 Sarah Palin is running for Congress.
The former Alaska governor had stepped away from politics since her failed vice presidential bid in 2008, as Republican John McCain's running mate.
The congressional seat opened up when longtime Republican Rep. Don Young died last week. Palin quickly indicated she would consider running for the seat, then confirmed her candidacy with a press release on Friday.
While Palin has not been in office, she has remained in the public eye.