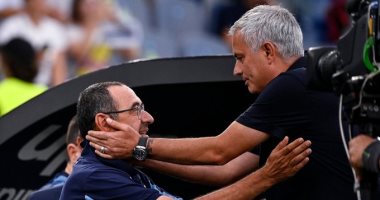 Lazio coach Maurizio Sarri confirmed that he did not expect excitement and enthusiasm during the Roma derby match that brought his team against Roma, and ended with Lazio winning 3-2.
"I had a feeling that the players had obstructed their thinking and this prevented them from playing," Sarri said, during statements published by the "Football Italia" network.
"Having said that, let's not get carried away by the concept of freedom, it is clear that in certain areas of the field and certain contexts, players can be free to express themselves."
On Felipe Anderson, he said: "He has to continue this level of performance, because he has what it takes, what worries me is that he does not realize his own strength, he plays in a shy style, so I can only hope that he gains this self-belief."
He added: "I'm only disappointed because we played well defensively and still conceded two goals from set-piece positions. We tested some positions yesterday for Roma's header in the near goal, and it wasn't easy, because Veritot put two or three great corners. We struggled a little bit in those. positions."
"I'll admit, it was emotionally one of the most exciting matches of my career, I didn't expect the derby to give you that adrenaline rush and the satisfaction of winning."
He concluded: "Changing three or four players at Juventus can only be achieved at an inaccessible cost, we had to adapt some players to suit my game, and we came to a compromise that allowed us to win. I can do my job here in Lazio."
Lazio raised its score to 11 points to occupy sixth place in the Italian league standings, while Rome's balance froze at 12 points in fourth place, and Milan leads the competition with 16 points.