A team of Russian marine life specialists rescued a baby orca killer whale, as it was stuck in the sand due to low tide in Gertner Bay, located in the far east of Russia, and the small whale was unable to return alone to the sea and stuck near the shore, while the volunteers accepted Save the whale before it gets dehydrated due to the low water level around it.
The "Euro News" network showed footage of the rescue operation of a baby orca, and the rescue operation took place in the Magadan region, and took several hours, during which rescuers poured water on the killer whale, to try to prevent dehydration from lack of water, and then tied it with ropes And pulled him to the bottom of the water, and eventually the "orca" baby was returned to the arms of the sea again.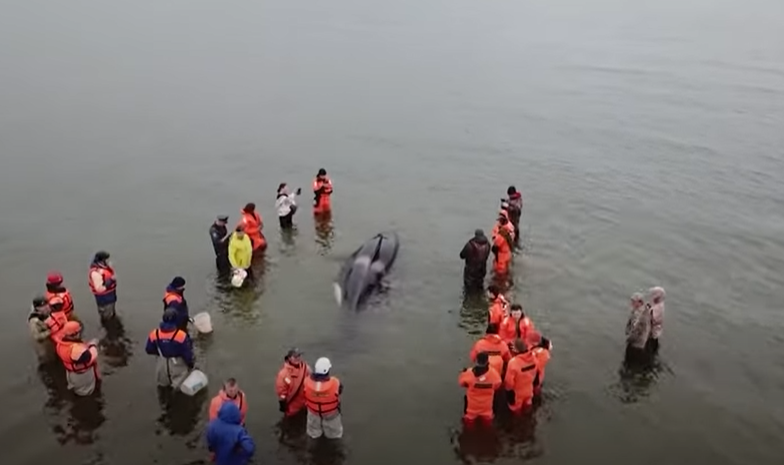 Baby whale rescue operation
trying to save the whale
Aerial footage showed the baby whale walking next to its mother, who lost it in this area near the beaches in the Russian Magadan region, knowing that the length of this type of whale can reach eight meters.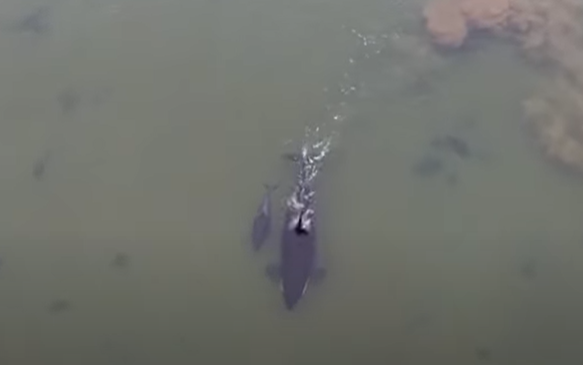 The whale returns to its mother
In a similar incident, rescuers in the British capital London succeeded – earlier – in the process of freeing a small whale stranded in the Thames River, southwest of London, and British media reported that the whale is about three meters long, and participated in the rescue of both The port authorities, the Royal National Lifeboat Corporation and the London Fire Brigade, and video footage published by the British "Sky News" network, showed a small crowd of people gathering to follow the team's work during the liberation of the whale.
The whale, which is believed to be a small "minke" whale, was first seen in Richmond Lock and Worm, after it got stuck while wandering in the Thames, while hundreds of people gathered to watch the whale, which ranges between three to four meters, while they waited for rescue teams that rushed To the place of the trapped whale.