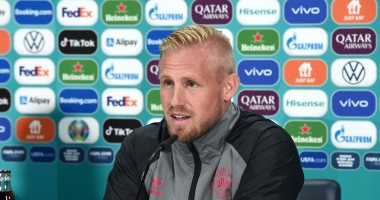 Denmark goalkeeper Kasper Schmeichel spoke about the challenges he faced during his international career, stressing the role of coach John Hughes, who played the biggest role in his appearance at his best technical level.
Denmark will meet Scotland in Copenhagen in the match that will be held today, Wednesday, as part of the qualifiers for the 2022 World Cup in Qatar.
And the British news agency "BA Media" reported that Kasper, son of former Manchester United goalkeeper Peter Schmeichel, was on loan to Falkirk from Manchester City from 2007 until the end of this season.
Although it was a short period for Schmeichel, 34, who won the Premier League and FA Cup with Leicester City, he believes that the influence of Falkirk and Hughes was a key element in the success of his career.
"Playing in Scotland was a big part of my development," Schmeichel said before the Danish national team's match against Scotland in Copenhagen on Wednesday.
The Denmark goalkeeper added: "At this age, to have a coach like Hughes, who trusted me and brought me to play in the Scottish League, with a team that wanted to play football, and the way the club was run, everything was perfect for me at this time."
He added: "I enjoyed my time here, I met some amazing people and I am still in contact with them, I am very grateful to the club, to the coach in particular who took care of me and took good care of me. The technical staff, the goalkeeper coach, all played a great role in my career."
If we want to beat them we must be at our best, we must play with the same desire and determination that we have played for so long," Schmeichel said.