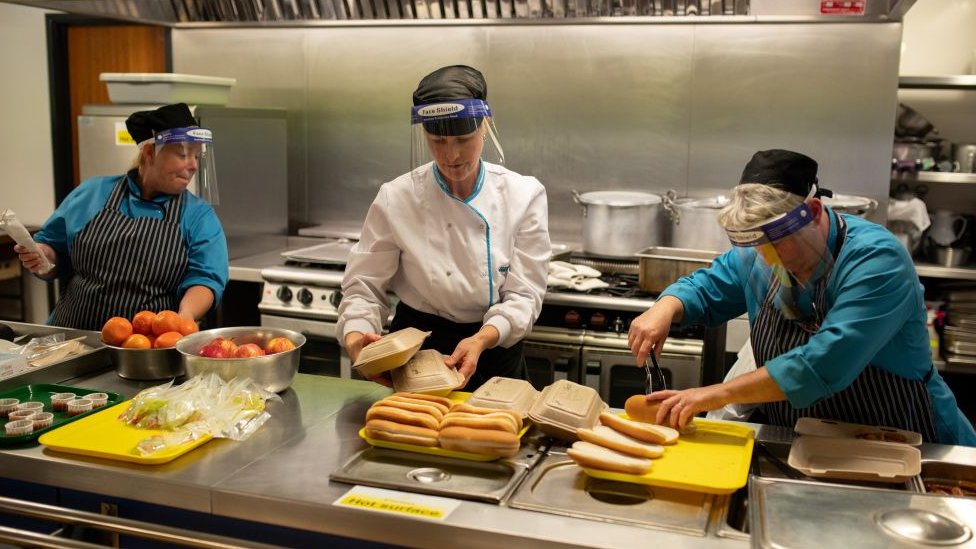 The row over extending free school meals over the school holidays has continued into its second week.
The UK government has defended not extending the scheme over the half-term holiday. It says it is supporting families through extra money for universal credit and additional funding for councils.
But how many pupils can claim free school meals, and which parts of the country have the highest rates?
Who is eligible for free school meals?
In England, children living in households on income-related benefits (such as universal credit) are eligible for free school meals, as long as their annual household income does not exceed £7,400 after tax, not including welfare payments.
This is the same in Wales and Scotland, however in Northern Ireland the cap is set at £14,000 a year.
If a child is eligible, their parent or guardian can claim at any age – from pre-school to further education.
In England and Scotland, all infant state school pupils (those in Reception and in Years 1 and 2) can get free school meals during term time – regardless of their household income.
How many are eligible for free school meals?
This is the highest proportion of children eligible in at least a decade.
Where is free school meal eligibility highest?
The proportion of children eligible varies considerably across the country, but generally matches recognised trends surrounding regional deprivation and wealth.
For example, almost a quarter of pupils in the north-east of England are eligible compared with about 13% of pupils in the south-east.
The highest proportion of students eligible for free school meals – about a third – in England are in:
Knowsley
Tower Hamlets
Blackpool
Islington
Hackney
Meanwhile, the lowest proportion of pupils eligible – fewer than one in 10 – are in:
The Isles of Scilly
Wokingham
Rutland
Windsor and Maidenhead
Buckinghamshire
For example, more than 60% of Irish Traveller pupils taking their GCSEs are eligible for free school meals.
Roma/Gypsy, Bangladeshi and black pupils also have disproportionately high eligibility.
Meanwhile, white, Indian and Chinese pupils are far less likely to be eligible for free school meals.
Are all children in poverty eligible?
However, fewer than two million pupils across Scotland, Wales and England are eligible for free school meals.
But these two numbers are ultimately showing two different things.
Relative poverty is calculated by taking the median income – that's the income where half of all households earn more and half earn less – and then looking at how many children live in households earning less than 60% of this.
Meanwhile, free school meal eligibility is a measurement of how many school-age children are living in households claiming some form of employment-related welfare benefit.
Some households in relative poverty might not meet the financial threshold to claim certain benefits.
Is there a measurement for hunger?
Both relative poverty and free school meal eligibility are measurements of income rather than food insecurity – although the two are closely linked.
In the UK, there is no single measurement for hunger.
A 2018 report from the UN's Food and Agriculture Organisation estimated 2.2 million people in the UK were severely food insecure. This was the highest in Europe.
A 2017 Unicef report found that about 10% of children under 15 lived with a parent who was severely food insecure.
Almost half of young mothers (16-24) surveyed by Young Women's Trust admitted to missing meals to provide for their children.
None of these measurements are perfect, but shine some light on the scale of the problem.
Will eligibility increase because of coronavirus?
This is likely – especially since it is based on those claiming welfare.
However, not all of the additional 500,000 households with children claiming the benefit will be eligible for free school meals, due to the £7,400 cap.