Press secretary for Senate Majority Whip Sen. Dick Durbin, D-Ill., deleted a tweet in which she slammed Sen. Joe Manchin, D-W.Va., and then preceded to lock her Twitter account. 
Jenna Valle-Riestra, who serves as press secretary for the Senate Judiciary Committee which is chaired by Sen. Durbin, appeared to take a shot, Sunday evening, at Manchin's refusal to remove the filibuster and his opposition to Democrats voting-rights bill, S.1 For the People Act.
"All I'm saying is I don't think our founding fathers anticipated the survival of this democratic experiment to rest in the hands of a man who lives in a house boat," she tweeted. 
The tweet was quickly deleted shortly after she published it.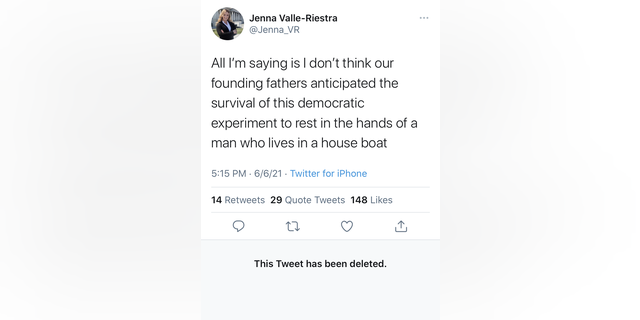 NEW YORK TIMES BLASTED FOR 'BIASED' TWEET AGAINST SEN. JOE MANCHIN'S MODERATE POSITIONS
Valle-Riestra also locked her account and scrubbed her biography of her employment with Durbin and other Democrats.