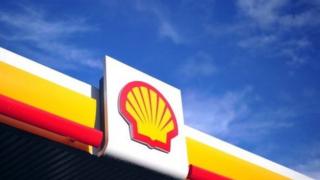 Royal Dutch Shell has said it plans to cut 7,000 to 9,000 jobs worldwide following the collapse in global oil demand due to the coronavirus pandemic.
The oil giant said the cuts would be implemented by 2022 and included 1,500 people who were taking voluntary redundancy.
It gave no indication of where the job losses would happen.
The move comes five months after it cut its dividend for the first time since World War Two.
Shell, which employs 83,000 people worldwide, has been hit by a substantial drop in profits since the pandemic struck.
It saw a 46% fall in first-quarter net income to $2.9bn (£2.3bn), while second-quarter income fell 82% to $638m.
The firm said third-quarter earnings were expected to be "at the lower end of the $800m to $875m range".
Shell is in the midst of a cost-cutting drive that is expected to deliver annual savings of $2bn to $2.5bn by 2022.
Other big oil firms are facing similar challenges. Rival BP has also cut its dividend and recently announced it was cutting 10,000 jobs out of its global workforce of 70,000.