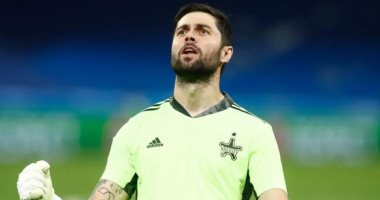 Greek goalkeeper Giorgos Athanasiades, star of Sherif Tiraspol, champion of Moldova, was crowned the best player in the second round of the group stage of the Champions League, after his team was able to achieve a historic victory at the expense of Real Madrid in the match that ended 2-1 at the "Santiago Bernabeu" stadium, the team's stronghold. Royal in the continental competition for the current season 2021/2022.
The European Football Association "UEFA", through its official website, announced the victory of the Moldovan goalkeeper, after he managed to shine against Real Madrid and his ability, according to the statistics he obtained during the match.
Giorgos Athanasiades made a heroic performance against Real Madrid, where he tackled 11 dangerous balls from the royal team, to be one of the most important reasons for his team's victory in the match.
The trio, Mohamed Salah, the Liverpool star, Cristiano Ronaldo with Manchester United and Lionel Messi with Paris Saint-Germain, missed the nominations in the Player of the Week award despite their great brilliance, as Ronaldo scored the winning goal in the deadly time, as well as Messi scored his first goals and the winning goal, and Salah scored two goals in Liverpool's five .
The Greek goalkeeper outperformed his competitors for the award, namely: Leroy Sane, the German star of Bayern Munich, who led the Bavarian to victory over Dynamo Kiev by five clean goals by creating the third goal for Serge Gnabry and scoring the fourth goal in a wonderful way with a deceptive ball for the goalkeeper.
And Portuguese striker Darwin Nunez of Benfica, after scoring two goals that led his team to a 3-0 victory over Barcelona.
In addition to Inter Milan defender, Slovakian Milan Skriniar, who led his team with an impressive defensive performance to get a draw point from Shakhtar Donetsk Stadium, on Tuesday, in Group D in a meeting that ended without goals.
🥇 Sheriff hero Giorgos Athanasiadis crowned #UCL Player of the Week 👏👏👏#UCLPOTW | @PlayStationEU pic.twitter.com/p34AdKYCSX

— UEFA Champions League (@ChampionsLeague) September 30, 2021