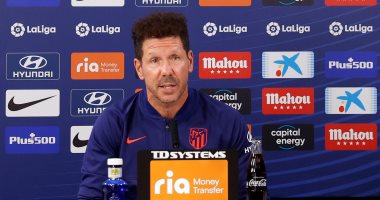 The Argentine coach, Diego Simeone, expressed his sadness at Atletico Madrid's first loss in the league this season, which came at the hands of Deportivo Alaves 1-0 in the seventh round of the Spanish league competition.
Atletico Madrid
Simeone said during his statements after the match, "I trust the team we have and the work we can do to improve the team.
On the lack of chances, the Atletico coach said, "It's normal, we played the way Alaves played several times, it's difficult because they gather a lot in the back and they don't leave spaces, we didn't have the ability to hurt them, there are times when you have to win in this way and it is good very".
Simeone added, "These are moments, we always comment that there are bad moments during the season, we may go through one of those difficult times, we as coaches first have to convey to the team what we want. I have complete confidence in my team, the responsibility rests entirely with me in terms of what The team doesn't show it."
He continued, "Today we were not able to break the opponent's lines. In the second half with Korea, we managed to do so with more than one chance. We have to look and attack more. The teams no longer play with us like before and we have to change. Alaves, Espanyol, Porto. They waited for us in the back, we have to." We find the way to the goal in this case."
He ended his remarks by saying, "The most important thing is that we have to improve, everything else will come with the matches. Next is Tuesday and it is the key for us in the Champions League."
With this result, Alaves achieved his first victory in the tournament, raising his score to three points in the nineteenth and penultimate place, while Atlético Madrid's balance stopped at 14 points in second place, while Real Madrid leads the competition with 16 points.