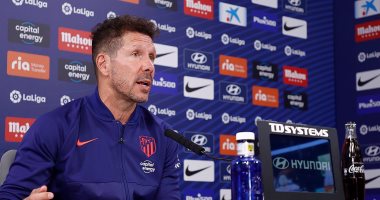 Atletico Madrid coach Diego Simeone announced at the press conference before the Alaves match tomorrow in the seventh round of the Spanish League that "Koki" and "Condogbia" are ready to participate in the match.
Simeone said: "We think about the upcoming matches constantly about improving performance and tackling errors, and I am not in a position to look for solutions, we must do what they allow us to do."
Atletico Madrid will host Deportivo Alaves at 2:00 p.m., tomorrow, Saturday, at Mendizorosa Stadium, to calculate the activities of the seventh round of La Liga.
He added: "What we have to do is just play, we are currently focused on the Alaves match, our opponent is growing and competing well in all matches and I can't imagine any other scenario."
Atletico Madrid is in second place in the La Liga trip, two points behind Real Madrid, the leaders in the competition, as after the last victory against Getafe, it raised its score to 14 points from six matches.
Atletico Madrid hopes to continue the victories to put pressure on Real Madrid, the leaders in the competition, While the team hopes Alaves achieved a surprise in search of a way out of the gloom that has been chasing him since the beginning of the season, which made him vulnerable to relegation.