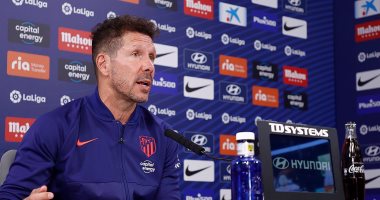 Argentine coach Diego Simeone, coach of Atletico Madrid, confirmed the need for French striker Antoine Griezmann, the team's striker, who is returning to the ranks of the Spanish League champions from Barcelona, ​​to improve during the coming period, revealing the details of what happened between them during the past days.
Atlético de Madrid is a heavy guest against Getafe at 7:30 p.m. tomorrow, Tuesday, at the "Alfonso Perez" stadium." In the opening matches of the sixth round of the Spanish League.
And the Atletico Madrid coach said at the match's press conference in response to a question: "Do you have an advantage as a coach to own Griezmann Suarez Correa Crasco?"
Simeone added: "I fully trust Griezmann, he is very important for the team and he needs to improve, I already told him that."
Diego Simeone continued: "I trust all my players. Suarez arrived late with Korea, Lodi and Trippier, and there was a pause for the teams. Suarez was regaining his fitness and faced some physical problems.".
Atlético Madrid coach commented that his team the most protest and get cards? He said: "We are very respectful towards the referees, sometimes you talk and there is a heated discussion but we really want to reduce these negative numbers.".
Simeone added:" Everyone in the team is working, but it is the beginning of the season, and this is what all clubs suffer from.".
Simeone talked about the upcoming match in the Spanish League: "Getafe is going through a difficult moment, but they competed well in all the matches, and they deserved much more than what the results reflect. You see the team moving, with the search for pressure, it will be complicated, like all matches against them."
Atleti made an unsuccessful start in the Champions League this season, after falling in a goalless draw against Porto, opening the Champions League campaign this season.
What makes Atletico Madrid's task difficult against Getafe is that the latter seeks to escape from the bottom of the Spanish league table, after receiving 5 consecutive defeats in the tournament so far.