The ancient Egyptian has always fascinated the whole world for various reasons, starting with his interest in medicine, science and the art of mummification, which scientists are still trying to explore their method until now, to simple things such as caring for beauty, decorations, accessories and other things related to daily life, and after international acclaim for the opening ceremony of the Rams Road in Luxor What Egypt witnessed yesterday, and through which it attracted the attention of the whole world to it, the questions related to the ingenuity and development of the ancient Egyptians in designing Pharaonic statues are increasing, but the truth is that they were not only skilled in that, but their ingenuity extended to designing household objects that facilitate their daily lives, And those that we will present some of through the following lines.
Tutankhamun foldable bed
The "studio sofa" is one of the pieces of furniture that many people resort to if they want to get a smart piece of furniture that does not require a large space, and can be used in more than one way, whether as a place to sit, or to sleep and relax, but it is not a modern invention, as the ancient Egyptians resorted to it In their own way, this was evident through King Tutankhamun's foldable bed.
The image of this bed has spread on social media during the recent period, coinciding with Egypt's preparation for the Rams Road party, and according to studies, this bed belongs to the modern state and was used in trips, wars or camping, and it was manufactured so that it is divided into three sections that are installed together For the large bed, it contains supports in each of its corners, and movable bronze connections, and the legs on which it rests are designed in the form of lion legs, and the surface of the bed is made of mats and linen, and contains strong hinges to help fold the bed easily when needed. .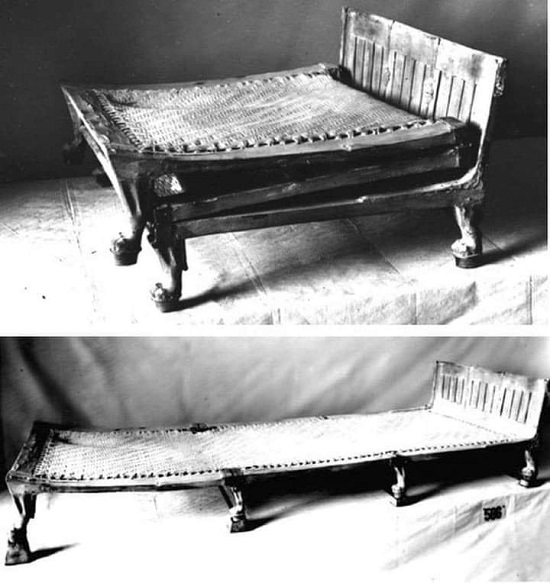 Tutankhamun's bed
foldable chair
It also seems that the chair that we used to take to the beaches, or that which can be taken with you anywhere as a foldable, was nothing but a pharaonic design that we borrowed from our ancient ancestors, as they presented it with more than one design, and it appeared in many Pharaonic families, and this foldable seat Folding dates back to the modern state, and was made of wooden slats, and inlaid with ivory, and copper was used at the joints.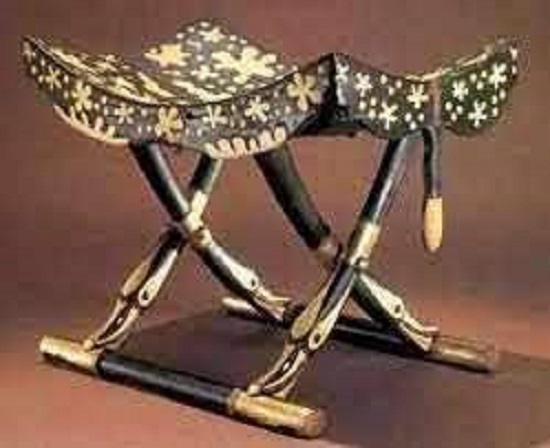 folding chair