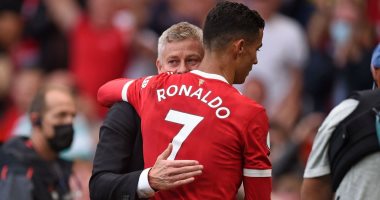 The Norwegian Ole Gunnar Solskjaer, coach of the Manchester United team, praised the level provided by the Portuguese star Cristiano Ronaldo in his first appearance with the Red Devils after returning to him during the last summer transfer period from Juventus.
Ronaldo led Manchester United to a great victory over his counterpart Newcastle United, by four goals against a goal, in the match that brought them together this evening, Saturday, at Old Trafford, in the fourth round of the English Premier League competition for the current season 2021-2022.
"I am very happy for Ronaldo, the team and the fans," Solskjaer said in his comments after the match. "You feel the enthusiasm and the atmosphere around the club after signing Ronaldo and today we saw what Ronaldo can do."
Solskjaer added, "Ronaldo is a man of big occasions. His presence with us motivated everyone. Our fans can dream and we will not be arrogant as a team. We will keep our calm," explaining, "Ronaldo is a special player who wrote his name in the history of this ancient club."
"Everyone knows the importance of Ronaldo and we are very happy to have him with us. What matters today is the result of the match. The great players will find a way to play together, there is no doubt about that."
"It is too early to talk about the title race. We are looking to improve compared to last season and turn all draws into victories this season," Solskjaer said.
With this result, Manchester United leads the English Premier League standings after raising its score to 10 points, combining them from 3 victories and a draw.