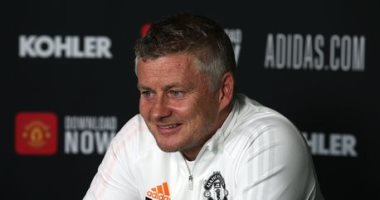 Manchester United coach Ole Gunnar Solskjaer confirmed the absence of striker Edinson Cavani from the West Ham United match, scheduled for Sunday in the fifth round of the English Premier League, indicating that he supports Jesse Lingard, and wants him to do the best this season.
Speaking at the West Ham press conference, Solskjaer said of the players' handling of the pressure after Cristiano Ronaldo's arrival: "There is always a lot of interest around Cristiano, he takes it and the players too.".
On Jesse Lingard, Solskjaer said:Lingard has one year left at the club, we are talking to him and his dad about a new contract, we want to see him as a Manchester United player.".
He continued:Jesse Lingard is back after a fantastic loan at West Ham, he has shown his skills and is back in the England national team and scoring goals. We really want to see the best of Lingard this season, we always support him and hope to keep him.".
Solskjaer confirmed the absence of Edinson Cavani from the West Ham match, saying:I hope Edinson Cavani starts training with us after the weekend, maybe Monday, so maybe on Wednesday he will play against West Ham in the League Cup.".
He continued:Cavani had a great season last season, he made a huge impact when he was in good shape, we think to get the best of him this season we have to get him back to 100%.".
He continued, saying:We have a great squad that gives the players time to recover, Edinson Cavani will have a huge impact for us, he is working hard to get back on the court.".
And about the Portuguese Dalot, he noted:Diogo Dalot learned a lot at Milan, he stayed in good shape, and that's important, he has qualities that we are trying to exploit more and more, and now he has more experience.".
And he added:We are not here to loan players for years, the loan last year was to give him experience and play and I think he succeeded in that when he played against the Young Boys.".
And he said Solskjaer on the loss against Young Boys in the Champions League: "We have five games to get the 10 or 12 points we need, it's not the start we wanted, but we have a good team that can recover again."".
He concluded, "We know expectations are high and we expect more from ourselves. The performance we did against Young Boys was not up to our standards."".