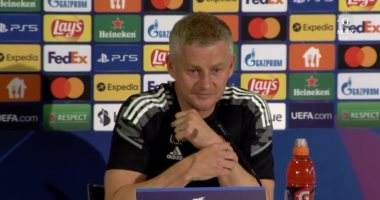 Manchester United coach Ole Gunnar Solskjaer spoke about his team's preparations to face the Swiss Young Boys in the match that will start at 7:15 pm tomorrow, Tuesday, at the "Suisse Wankdorf", in the first round of Group F for the current season 2021-2022.
"We've had unforgettable nights in the Champions League and the goal is to keep it going, but we know it's going to be tough," Solskjaer said. "We've added quality, experience and youth into the squad and hopefully we are better prepared."
Solskjaer added: "Sometimes you can go too far with the young players, but in some matches the experience will be important, but in other matches you will need to take risks and their courage."
"This team has grown and matured over the past few seasons, and that has always been the plan. When I arrived, we wanted a team with experience and quality."
"It's now up to us to get results and win trophies," Solskjaer said. "Everyone who signs for United wants to win trophies and be part of the team that wins."
Solskjaer stressed: "I hope Cavani comes back with us soon. He suffered a slight injury during the international break in a match behind the suspended doors, and he is working hard to get back."
"Not only did we analyze their match against Ferencvárosci in the Champions League, they are also in good shape in the league and the match against Zurich was very impressive, so we know it will be a very difficult match," Solskjaer said of the Young Boys match.
The Manchester United coach continued: "Pogba has always been a great passer and has not created any better goals than this season."
And Solskjaer spoke about Swiss football: "I was very impressed by the players' reaction against France, when they were 3-1 down, and some of these players will be against us tomorrow."
Solskjaer confirmed: "The players are in good shape, and with the people we signed with them, it became easier to rotate. I told the players that I trusted them."
Manchester United is competing in Group F of the Champions League for the 2021-2022 season, with Villarreal, Atalanta and Young Boys..
And Manchester United signed with Villarreal, who snatched the European League title last season 2020-2021, on penalties.