South African newspapers, issued today, Wednesday, were interested in Al-Ahly club losing the Egyptian Super Cup title at the hands of the Vanguards of the Army 3-2 on penalties in the Egyptian Super Cup, in light of the interest in the South African coach, Pitso Musimani, who is the technical director of the Red Castle..
Tala'a El-Gaish won the Egyptian Super Cup for the first time in its history after defeating Al-Ahly with a penalty shootout 3/2, during the match that brought them together yesterday evening, Tuesday, at the Burj Al Arab Stadium in the Egyptian Super, so that the two teams resorted to the penalty shootout..
Newspaper headlineTimes live: Al-Ahly signed a heavy fine on Pitso Mosimane's players and the technical staff after the cup defeat, and she said: "Some pressures are increasing on Musimani despite Al-Ahly's defense of the African Champions League title with a 3-0 victory over Kaizer Chiefs in the final in July.".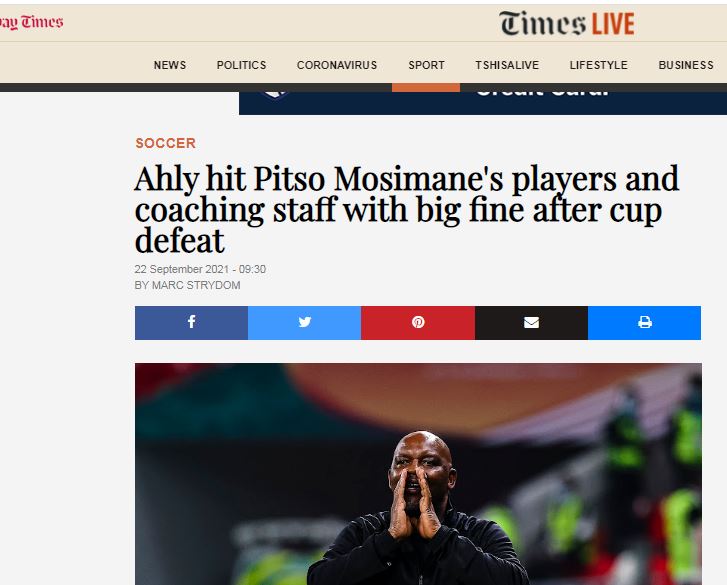 And she continued: "Mosimani's recent contracts, including Percy Tau from Brighton, have shown an intent to build Al-Ahly towards the golden generation in the first decade of the twenty-first century and early 2000s..
And she added: "Al-Ahly fans also gave freedom to the coach that the setback of the league in 2020-21 was at least due to the number of matches that the Red Devils played due to their winning of the bronze medal in the Club World Cup.
And she concluded: But the Super Cup is in front of the Egyptian Cup runner-up El-Jaish (Al-Ahly was the champion), who ranked eighth in the league..
While Kick Off newspaper titled: "Al-Ahly fines the coaches and players," and it was published after Al-Ahly lost in the Egyptian Super Cup: Club president Mahmoud Al-Khatib ordered to fine almost everyone in the club, including the coaches, players and the football director.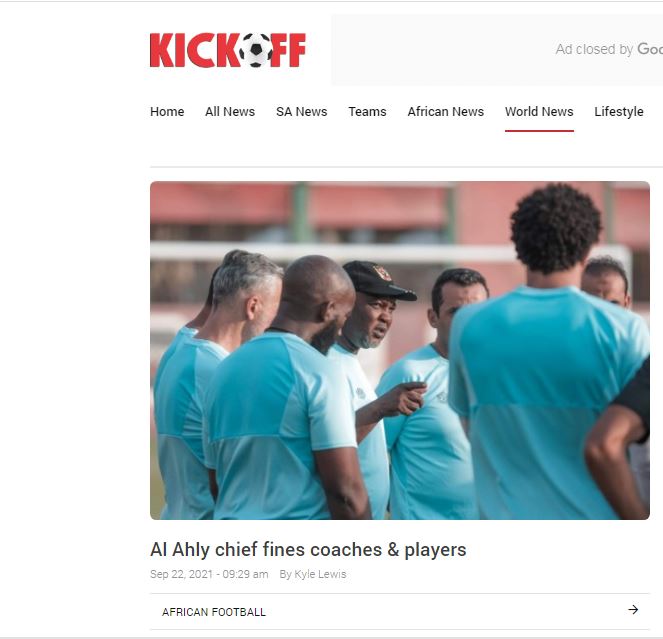 And I spoke: In response to the loss, Al-Ahly president Mahmoud Al-Khatib decided to impose a fine of 300,000 pounds on Al-Ahly's players, the football director and the technical staff, after the disappointing performance in Egypt, the Super Cup on Tuesday, despite the great support that the team receives to achieve titles and meet the expectations of the fans..
As a newspaper headlined idiskitimesBetso misses the fifth cup with Al-Ahly, and she said: Betso Musimani missed his fifth title since joining Al-Ahly after losing to Tala'a El-Gaish on penalties in the Egyptian Super Cup..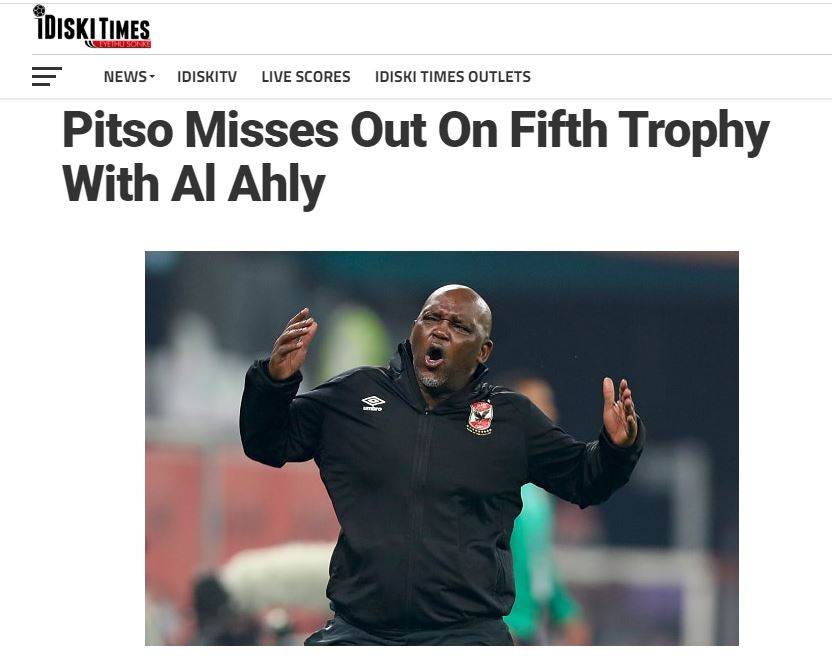 It was completed, but Mosimane's men missed the penalty kick, with the army goalkeeper saving three penalty kicks..