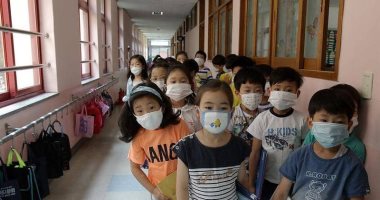 Today, Saturday, South Korea recorded the second-highest death toll from Coronavirus, with the outbreak of the disease in a prison, nursing homes and churches, which prompted the authorities to appeal to citizens to cancel all gatherings to celebrate the end of the year.
The Korean Agency for Disease Control and Prevention recorded 1132 new cases of the virus on Friday, which is not far from the record number recorded one day earlier, which was 1241 cases.
"The virus is spreading at the time and place it wants," Health Minister Kwon Deok-chul said during a meeting, adding that there are those who are infected in small gatherings between friends and acquaintances and that the country is "at a crossroads in the third wave of the outbreak."
Agency director Jong Eun-kyung urged the cancellation of all private gatherings and public and religious events online.
The government is preparing to hold a meeting on Sunday to discuss whether to tighten social distancing rules to the highest level in Seoul and the surrounding areas.
This would cause another 1.2 million stores to close and only allow essential employees to go to their workplaces. The restrictions currently imposed have led to the closure of nightclubs and other places of night entertainment, and the ban on receiving customers in places serving food and drinks after nine in the evening.
As the Christmas and New Year holidays approaching, the government banned gatherings of more than four people in and around Seoul and closed ski resorts and other tourist destinations.
The agency data shows that the country recorded 55,902 cases of corona in total, and 793 deaths.