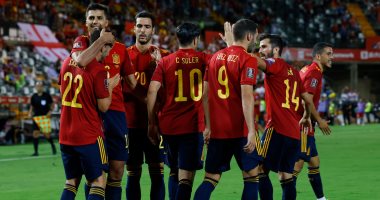 The Spanish national team will be a heavy guest against its counterpart Kosovo, in the confrontation scheduled to take place at 9:15 pm today, Wednesday, at the "Vadil Vocre Stadium", as part of the sixth round of European qualifiers for the 2022 World Cup in Qatar.
The Spain team, led by coach Luis Enrique, enters the match tonight as it leads the standings of Group B with 10 points, one point ahead of the runner-up Sweden, who played two fewer games and did not play in this round, while Kosovo comes third with 4 points, followed by Greece in Fourth place with 3 points, while Georgia is in fifth and last place with one point.
Spain beat its guest Georgia, by four goals, in the match that brought the two teams together, on Sunday evening, at the "Nuevo Vivero" stadium in Badajoz, as part of the fifth round of Group B matches.
Spain, led by coach Luis Enrique, regained its balance after losing to its Swedish counterpart 2-1 in the fourth round.
Spain coach Luis Enrique had summoned Tottenham left-back Sergio Reguilon to replace Jose Gaya, the Valencia star, at the Al Matdor international camp..
Valencia's Jose Gaya suffered a severe injury in Spain's match against Georgia.
At the same time, Greece will meet its Swedish guest, in the confrontation hosted by the "Karaiskakis" stadium, in the second group competition as well.