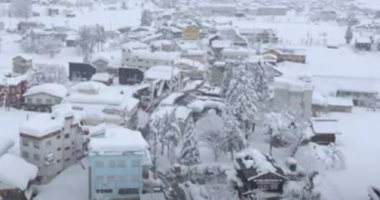 Heavy snow and very cold winds hit the country, with temperatures dropping to minus 34.1 degrees Celsius, the lowest level ever recorded in the Iberian Peninsula, Spain's government meteorological agency said Wednesday..
The agency said that the extremely low temperature was recorded in Clot de la Yanca in Aragon in the Spanish Pyrenees at 5.19 am.
This was two degrees lower than the lowest temperature recorded in Spain, and that was in 1956 when it reached minus 32 degrees Celsius in Estane Gento in Yida in northeastern Spain..
More heavy snow is expected in most parts of central and northern Spain, with temperatures expected to drop to minus 11 degrees Celsius.
Police have rescued a 75-year-old man who was stranded after he decided to walk to a safe place when his car got stuck in a snowstorm in Napia de Soarna near Lugo, northwestern Spain..