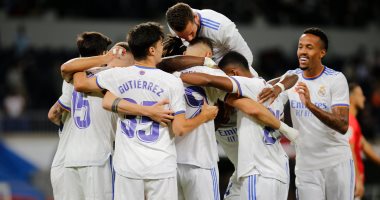 Press reports revealed today that the Spanish club Real Madrid is facing severe stress before its match against its Moldovan counterpart Sheriff Tiraspol, tomorrow evening, Tuesday, at the Santiago Bernabeu, in the second round of the group stage of the European Champions League.
And the Spanish newspaper "Marca" said that stress will become Real Madrid's first enemy, especially as the team is about to play a new match with a difference of less than 72 hours.
The newspaper added that Real Madrid played its third match in a row in less than 72 hours, stressing that after the international break, Real Madrid will not get more rest, but will play a large number of matches in a very short time, to eventually become the total of what Real Madrid will fight. 6 games in 17 days.
Today, Spain's Real Madrid concluded its training preparations for the match Sherif Tiraspol, champion of Moldova, which will be held tomorrow, Tuesday, at the Santiago Bernabeu.
Real Madrid will host Moldova's Sheriff Tiraspol at 9:00 a.m. tomorrow, Tuesday, in Group D, from the round of matches.UEFA Champions League groups for the 2021-2022 season.
Sherif Tiraspol leads the group standings with 3 points, while Real Madrid occupies second place with the same balance.
And the Spanish "Bernabeu Digital" website stated that Italian Carlo Ancelotti, Real Madrid's coach, led the final training session for Al-Maringi, and then he will appear to the media at the conference for tomorrow's meeting.
Real Madrid had fallen into the trap of a goalless draw against its guest Villarreal during the match that brought the two teams together at the "Santiago Bernabeu" stadium, the stronghold of the Royal Club, in the seventh round of the Spanish League competition "Liga".
The royal team tried to score a goal during the match through the attacks of Karim Benzema and Vinicius, but there is a defensive desperation on the part of the yellow submarine team.
Real Madrid won the first round match of the championship at the expense of Inter Milan, with two goals to one.