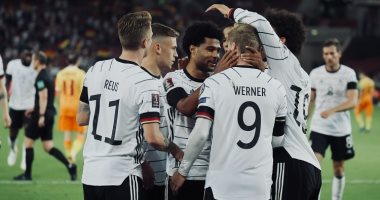 The German national team swept its Armenian guest with a clean six, in the match that brought them together on Sunday evening at the Mercedes-Benz Arena in Stuttgart, as part of the fifth round of Group X of the European qualifiers for the 2022 World Cup.
World Cup qualifiers

The German national team ended the first half with a clean four, which came through Bayern Munich star Serge Gnabry two goals in the 6th and 15th minutes, and Marco Reus, the Borussia Dortmund star, added the third goal in the 35th minute, and Chelsea striker Timo Werner concluded the Manshaft quartet in the first half in the last minute. .
In the second half, Jonas Hoffmann added the fifth goal of the German team, in the 52nd minute of the match.
The young player, Karim Adeymi, finished the six-nation German national team in the first minute of stoppage time for the match.
The German team topped the tenth group with 12 points, while Armenia's tally stopped at 10 points in second place.
The Opta network, which specializes in monitoring statistics, stated that Hans Flick is the first coach in the history of the German national team to win the first two matches by 8 goals, after winning the first match against Liechtenstein 2-0 and in the second against Armenia 6-0.
Flick, the former technical director of Bayern Munich, took over the training of the German national team, succeeding former coach Joachim Loew, who left after the Euro 2020 competitions.
In the same group, Romania defeated Liechtenstein 2-0, and Iceland drew 2-1 with North Macedonia.