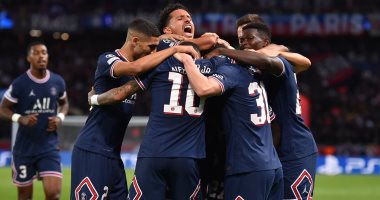 The Argentine star Lionel Messi led his team Paris Saint-Germain to achieve an important victory over its guest Manchester City, with a score of 2-0, in the exciting confrontation that took place between them on Tuesday evening at the "Princes Park" stadium, in the second round of the group stage of the Champions League competition this season 2021 -2022.
Summary and goals of Paris Saint-Germain against Man City
Senegalese Idrissa Gaye scored the first goal for Paris Saint-Germain in the 8th minute of the match, then Argentine star Lionel Messi scored the second goal for PSG with a superb shot in the 74th minute of the match, and this goal is the first of the flea's signature with Paris Saint-Germain after moving to him during the last summer transfers from Barcelona, ​​Spain.
Messi returned to participate with Paris Saint-Germain against Manchester City, after recovering from the injury he suffered in the left knee, against Olympique Lyon in the sixth round of the French League, and his absence against Metz and Montpellier, respectively..
With this result, Paris Saint-Germain tops the table of the first group standings in the Champions League, after raising its score to 4 points, ahead of only Club Brugge, the runner-up, with the same balance of points, while Man City came third with 3 points, and Leipzig is at the bottom of the standings without any points.
Paris Saint-Germain vs Man City
Paris Saint-Germain played the match with a formation that included: Goalkeepers: Donnarumma / Defense line: Kimpembe, Marquinhos, Ashraf Hakimi, Nuno Mendes / Midfield: Herrera, Verratti, Idrissa Guy / Forward line: Lionel Messi, Kylian Mbappe, Neymar.
The formation of Manchester City was as follows: Goalkeepers: Ederson / Defense line: Laporte, Diaz, Cancelo, Walker / Midfield: De Bruyne, Rodri, Bernardo Silva / Forward line: Riyad Mahrez, Raheem Sterling, Jack Grealish.
Manchester City had won a wide victory in the first round over Leipzig, Germany, 6-3, while the Paris team fell into the trap of a positive tie against its Belgian host Club Brugge, 1-1.