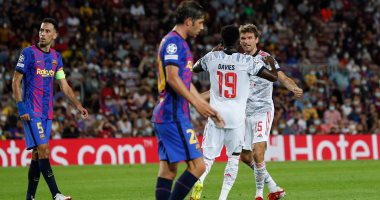 Bayern Munich continued its superiority over its Spanish rival Barcelona during the recent period, after the Bavarian team won an easy 3-0 victory over its Catalan counterpart, in the confrontation that brought them together on Tuesday evening, at the Camp Nou stadium, in the first round of the group competitions. Fifth in the Champions League for the current season 2021/2022.
Summary and goals of the Barcelona vs Bayern Munich match
Thomas Muller scored the goal for Bayern Munich in the 34th minute of the match, then the Polish star Robert Lewandowski added the second goal of the Bavarian giants in the 56th minute of the match, then the Bayern striker concluded the Bayern Munich hat-trick in the 85th minute of the match.
With this result, Bayern Munich leads the standings of Group E after winning the first 3 points in its new season of the Champions League, while Barcelona is bottom of the standings without any points, while Dynamo Kiev is second, with a goal difference only from Benfica III after its victory over The last one with a fatal goal at the same time.
This is the first match for the Catalan team in the Champions League without Argentine star Lionel Messi, who left during the last summer transfers to Paris Saint-Germain..
Barcelona vs Bayern Munich
Bayern Munich faced Barcelona with the following formation: Goalkeepers: Manuel Neuer / Defense line: Obamecano, Zule, Pavard, Kimmich / Midfield: Goretzka, Davies, Thomas Muller / Forward line: Lewandowski, Jamal Musila, Leroy Sane.
As for the formation of Barcelona against Bayern Munich, as follows: Goalkeepers: Ter Stegen / Defense line: Orajo, Pique, Garcia / Midfield: Busquets, De Jong, Serge Roberto, Jordi Alba / Forward line: Memphis Depay, Luke de Jong, Pedri .