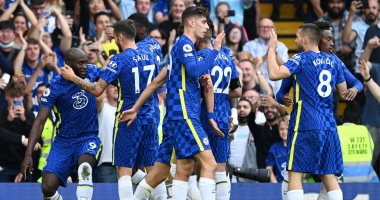 The Chelsea team regained the tone of victories in the Premier League again, after it achieved an easy victory over its guest Aston Villa, with three goals for free, in the confrontation that took place between them this evening, Saturday, at "Stamford Bridge", in the fourth round of the English Premier League competition. For the current season 2021-2022.
Summary and goals of the Chelsea match against Aston Villa
Belgian star Romelu Lukaku scored the goal for Chelsea in the 15th minute of the match, then Mateo Kovacic added the second in the 49th minute of the match, before Lukaku scored the second and third personal goal for the Blues in the last minute of the match.
With this result, Chelsea occupies second place in the English Premier League table with 10 points, with a goal difference only from Manchester United, the leader, with the same balance of points, after they swept Newcastle United 4-1 earlier today, while Aston Villa's balance froze at 4 points in the center. fourteenth.
Chelsea faced Aston Villa with the following formation: Goalkeepers: Mind / Defense line: Chalubah, Thiago Silva, Rudiger / Midfield: Alonso, Kovacic, Saul, Odoi / Forward line: Hakim Ziyech, Lukaku, Havertz.
The Chelsea team managed to escape the trap of defeat at the hands of Liverpool and tied with them with a goal each at Anfield in the last round, to return again to the winning streak today.
And he was absent from participating with Aston Villa, the Egyptian international Mahmoud Hassan Trezeguet, as the date of his return to participate in the team's team training, and therefore participation in the matches, has not been set.