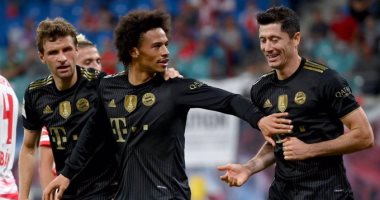 Bayern Munich achieved a new victory against its counterpart Leipzig 4-1, in the match that brought the two teams together today, Saturday, at the Red Bull Arena, in the fourth round of the German League competition.
Leipzig vs Bayern Munich
Bayern Munich

The first goal came through Polish star Robert Lewandowski in the 12th minute from a penalty kick, the referee needed to resort to a technique VAR Before it was calculated, the first half ended with the Bavarian leading 1-0.
Robert Lewandowski has scored in 14 consecutive matches in the German League so far, approaching the number of the late legend Gerd Muller, who scored 16 in consecutive matches.
Bayern Munich entered the second half excited, scoring two consecutive goals through Jamal Musila in the 47th minute and Leroy Sane in the 54th minute, and Konrad Lemar reduced the difference for the hosts in the 58th minute.
In the 91st minute, Cameroonian substitute Chubu Moting scored the fourth goal for Bayern, ending the match with a 4-1 victory for the Bavarian.
Serge Gnabry, the Bayern Munich winger and the team's star, went out between the two halves of the meeting; He was injured, but Sky Sports said that the player was taken out of the match only as a precaution.
The formation of Bayern Munich was as follows: Goalkeepers: Manuel Neuer / Defense: Pavard, Upamecano, Hernandez, Davies / Midfield: Kimmich, Goretzka, Sane / Forwards: Gnabry, Muller, Lewandowski.
With this result, Bayern Munich rises to the rank of the German League with 10 points, behind leaders Wolfsburg with 12 points, while Leipzig ranked 13th with 3 points.