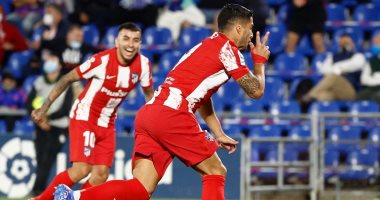 Uruguayan star Luis Suarez snatched a valuable victory for his team, Atletico Madrid, at the expense of its host, Getafe, by 1-2, in the meeting that brought the two teams together, on Tuesday evening, at the "Alfonso Perez" stadium, in the opening of the sixth round of the Spanish League competition for the current season 2021-2022. .
Getafe finished the first half of the match with a clean goal, scored by Steven Mitrovic in the last minute, from a header to the right of Atletico Madrid goalkeeper Oblak.
It is Mitrovic's first goal for the Getafe team that has scored against Al-Rokhy Blancos in La Liga since 2011, during the Argentine Diego Simeone's tenure as coach of the team.
In the second half, Getafe midfielder Carles Elena received a direct red card in the 74th minute, after his violent intervention on the Atletico Madrid player, to complete the rest of the match with ten players.
Luis Suarez scored the equalizer in the 78th minute, after following Mario Hermoso's cross, and shot it into the net to the left of the goalkeeper.
The Uruguayan star returned to score the winning goal in the first minute of stoppage time, to give his team 3 valuable points, after a goalless draw in the last round with Athletic Bilbao.
Atletico Madrid topped the Spanish league standings with 14 points, one point ahead of Real Madrid, who will face Real Mallorca tomorrow, Wednesday, in the same round, while Getafe remains without any points.