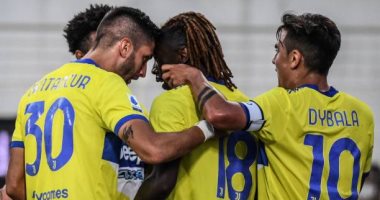 Juventus snatched its first victory in the Italian League during the current season 2021-2022, after defeating its host Spezia, 3-2, in the exciting match that brought the two teams together, on Wednesday evening, at the "Alberto Pieco" stadium, in the fifth round of the Calcio.
Spezia vs Juventus

The positive tie was settled with a score of 1-1 in the first half of the match, and Juventus was the first to score through young striker Moise Kean, in the 28th minute, with a shot to the right of the Spezia goalkeeper.
Ghanaian Emmanuel Gyasi scored the equalizer for the home team in the 33rd minute, with a wonderful shot that landed to the left of the Juve goalkeeper Chesney.
And the "Opta" network, which specializes in monitoring statistics, stated that Juventus had received goals in 19 consecutive matches in Calcio, for the first time since 1955, when it received
With the beginning of the second half, Spezia succeeded in adding the second goal in the 49th minute, through player Yannis Antisti, from a shot that was placed to the right of the Juve goalkeeper.
Federico Chiesa scored the equalizer for the old lady's team in the 66th minute, and Dutch defender Matthias de Ligt added the third goal for Juventus in the 72nd minute.
Juventus raised its score to 5 points in twelfth place in the Italian league standings, while Spezia's balance stopped at 4 points in 16th place, and Inter Milan leads with 13 points.