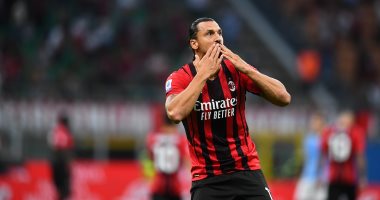 The Milan team continued its victories in Calcio, after it achieved a precious victory over its guest Lazio, 2-0, in the match that took place between them this evening, Sunday, at the "San Siro" stadium, the stronghold of the Rossoneri, as part of the third round of the Italian league competition this season. 2021-2022.
Summary and goals of the match Milan vs Lazio
Rafael Liao scored the goal for Milan against Lazio in the 45th minute of the match, then Zlatan Ibrahimovic scored the second goal for Milan in the 66th minute of the match.
Ibrahimovic participated as a substitute in the 60th minute of the match instead of Rafael Liao, where Zlatan scored his reappearance with the Rossoneri after an absence of more than 4 months due to injury.
Milan's Frank Kessie missed a penalty kick awarded by the referee in the last minute of overtime in the first half, hitting the ball across the crossbar.
With this result, Milan raises its score to 9 points to lead the Italian league standings, ahead of only Napoli, who has the same balance of points, while Lazio is in sixth place with 6 points.
Milan faced Lazio with the following formation: Mainan, Calabria, Tomori, Romagnoli, Theo Hernandez, Casey, Tonali, Florenzi, Diaz, Liao, Rebic.
Lazio line-up against AC Milan is as follows: Pepe Reina, Marusic, Ramos, Acerbe, Hsia, Serge Savic, Lucas Leiva, Luis Alberto, Pedro Rodriguez, Immobile, Felipe Anderson.
Milan had won the first two consecutive matches of the Italian league, for the first time since the 2002-2003, 2003-2004 season, under the leadership of Italian coach Carlo Ancelotti.