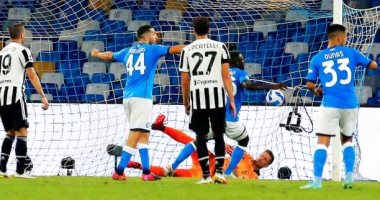 Juventus continued its modest results by losing 2-1 to its host Napoli, in the match that brought the two teams together, on Saturday evening, at the "Diego Armando Maradona" stadium, in the top of the confrontations of the third round of the Italian League competitions for the current season 2021-2022.
Napoli vs Juventus
Juventus ended the first half of the match with a goal scored by Spanish striker Alvaro Morata in the tenth minute of the match, after he took advantage of the error of the Greek Manolas, the Napoli defender, and hit the ball over the goalkeeper in a distinctive way.
His goal in Naples is the second fastest goal scored by Morata in the Italian league, after his goal against Chievo Verona after 6 minutes in January 2016.
In the second half, Matteo Politano scored the equalizer for Napoli in the 57th minute, after following a rebound from Szesni, the Juve goalkeeper, to put it in the net.
Strong Senegalese defender Kalidou Coulibaly added Partenobi's second goal in the 85th minute of the match, after taking advantage of a rebound from goalkeeper Chesney.
Napoli vs Juventus
Al-Juvey suffered its second defeat in a row in the first 3 rounds of Calcio, after losing the Empoli match in the last round, with a score of 1-0.
Napoli topped the Italian league table with 9 points, while Juventus' balance stopped at one point in the fourteenth place.
And Juventus missed today's match, the Brazilian duo Danilo and Alex Sandro due to their late arrival after participating in the World Cup qualifiers with the samba team, in addition to the young striker Federico Chiesa with injury, as well as Argentine Paulo Dybala.