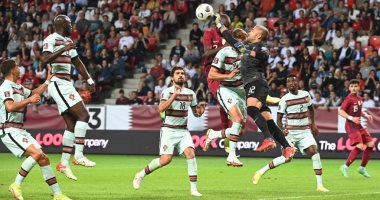 Portugal achieved a moral victory over its Qatari counterpart, 3-1, in the confrontation that took place between them on Saturday evening, as part of the fifth round of the European qualifiers for the 2022 World Cup.
The Qatari team will participate in the European qualifiers for the 2022 World Cup, specifically with the first group teams qualified for the World Cup for the old continent, but without calculating the points or affecting the group, in order to prepare for the expected global battlefield next year.
Portugal vs Qatar
Andre Silva opened the scoring for Portugal in the 23rd minute of the match, and two minutes later Otavio da Silva added the second goal, while Bruno Fernandes ended the hat-trick in the 87th minute of the match through a penalty kick.
Abdul Karim Hassan scored Qatar's only goal in the 61st minute of the match, as his country completed the match with ten players, after Mishaal Issa was sent off in the 43rd minute of the match.
The Portuguese national team missed its first star and legendary captain, Cristiano Ronaldo, in today's match, as the Portuguese Football Association announced that its historical scorer had left his country's national team camp, to return to his former team, Manchester United.
Portugal played the match as follows: Lopez, Nelson Semedo, Duarte, Danilo Pereira, Mendes, Joao Moutinho, Joao Mario, Ottavio, Guedes, Ruben Neves, Andre Silva.
Portugal vs Qatar
The star Ronaldo led his country to achieve a dramatic victory at the expense of its Irish guest (2-1), in the match that took place between them last Wednesday, in the fourth round of the European qualifiers for the 2022 World Cup in Qatar.
Portugal managed to overturn a goal with a precious victory with two goals, scored by captain Cristiano Ronaldo, to put his country at the top of the table in Group A.
The Portuguese star scored two goals for his country in the deadly time, the first in the last minute of the original time of the meeting, and the second in the sixth minute, calculated instead of lost, but he received a yellow card for taking off his shirt to celebrate the winning goal he scored in the killer time, so he will be absent due to the accumulation of cards.
Qatar's first match in the European qualifiers for the World Cup was against Luxembourg, and it won with a clean goal, then it faced the Azerbaijan national team, and beat it with two goals to one, then lost to Serbia by four without a response.