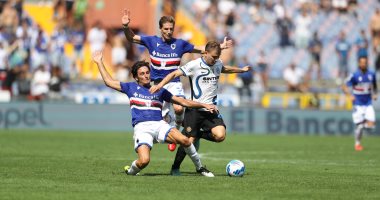 Inter Milan fell to a draw against its host Sampdoria, 2-2 in the match that brought them together this afternoon, Sunday, in the third round of the Italian League competitions, at the "Luigi Ferraris" stadium.
Sampdoria vs Inter Milan goals and highlights
Inter Milan, the Italian champions last season, imposed control over the course of things in the first half, in the complete absence of Sampdoria, the hosts.
Inter threatened the Sampdoria goal with a number of dangerous balls, until they managed to snatch the goal of the advance through a wonderful free ball by Federico Demarco in the 18th minute.
The Sampdoria team began to return to the match, as it posed more danger to Handandovic's goal, until he managed to snatch the equalizer in the 33rd minute through Maya Yoshida.
Before the end of the first half, Argentine star Lautaro Martinez snatched the second goal of Inter Milan in the 44th minute.
In the second half, Sampdoria controlled the match against Inter Milan, and reached Handanovic's goal with more than one ball.
In the 47th minute, Sampdoria scored the equalizer for the second time against Inter, through Thomas Ogello.
Inter Milan kept looking for the winning goal in the match, but the Sampdoria defense managed to reach a 2-2 draw.
With this result, Inter Milan raises its score to 7 points in the Italian league standings, behind the leaders Napoli with 9 points, while Sampdoria reaches 2 points in 13th place.