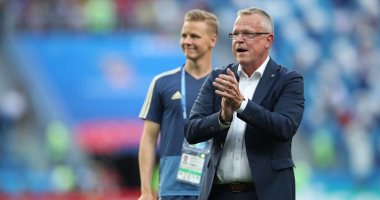 Sweden coach Jan Andersson believes that Spain coach Luis Enrique remains in a state of tension before facing the two teams tomorrow, Thursday, in the qualifiers for the next World Cup, in absentia, especially after the two teams tied in the last European Nations Cup "Euro 2020".
"I have not stopped thinking once that Enrique will be on the other side," Anderson said during a press conference today, Wednesday, before facing Sweden and Spain, in the European qualifiers for the World Cup.
The Sweden coach added: "We are preparing to face Spain. If Luis Enrique is not happy, this is a good sign."
Anderson confirmed that his team should try to possess the ball more than it did in the previous match, which brought the two teams together two months ago in Seville, where Sweden's possession of the ball did not exceed 25%.
"We have to accept that Spain will have more possession of the ball than us, that's how they play," the Sweden coach stressed.
Anderson continued: "As I said, it is important to be in a good position defensively, but when we have the ball, we want to have more possession of it than we did in Seville, as happened in the Euro qualifying match in Stockholm."
Anderson concluded: "The decisive element is to overcome the Spanish pressure, if Sweden can achieve that, we will have more chances compared to the last match."
In a related context, Sweden's squad to face Spain in the Qatar 2022 World Cup qualifiers was devoid of injured veteran striker Zlatan Ibrahimovic, while Real Sociedad striker Alexander Isak and Seville back Ludwig Augustinson entered it.
The 39-year-old Milan striker is still recovering from the knee injury that prevented him from participating in the European Nations Cup after returning to the national team last March after five years of absence.
"We had a very constructive conversation with him, although he is sad," said Swedish coach Jan Andersson. "The rehabilitation did not go well enough to be ready this time. We hope that by the next camp, he is ready and well", during a press conference.
Sweden faces Spain on the second of next September, then Greece on the eighth of September, between them a friendly match against Uzbekistan on the fourth of that month.
Sweden is in the second group of qualifiers, where it is currently in second place with six points, one point behind leaders Spain, although Luis Enrique and his men have played more games.
Swedish team roster:
Goalkeepers: Robin Olsen, Christopher Nordfeldt, Pontus Dalberg.
Defenders: Victor Nelson Lindelof, Marcus Danielson, Matthias Johnson, Philip Hellander, Joachim Nelson, Emil Kraft, Karl Starvelt, Ludwig Augustinson, Martin Olsson.
Midfield: Victor Clayson, Emil Forsberg, Christopher Olsson, Albin Ekdal, Matthias Svanberg, Jens Cagosti, Ken Sima.
Forwards: Alexander Isak, Robin Quaison, Jordan Larson, Isak Kees-Tleen, Dejan Kolowski, Jesper Carlson.