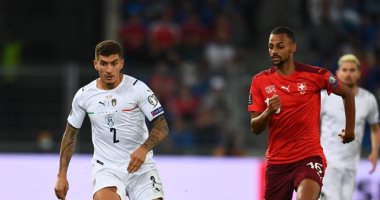 The match between Italy and Switzerland, which was held on Sunday evening at "St. Jacob Park", as part of the fifth round of Group C matches, for the European qualifiers for the 2022 World Cup finals, was decided goalless.
The Italian team had the chance to win in the 53rd minute when he got a penalty kick, but Jorginho was missed by the team's midfielder.
The formation of the Italian national team is as follows: Goalkeepers: Donnarumma / Defense: Di Lorenzo, Chiellini, Bonucci, Emerson / Midfield: Paella, Jorginho, Locatelli / Attack: Berardine Immobile, Insigne.
With this result, Italy is at the top of Group C with 11 points from 5 matches, while Switzerland is in the group runner-up with 7 points.
The two teams had met recently in the group stage of the last European Nations Championship "Euro 2020", during which the Italian team won by three clean points.
Italy, led by coach Roberto Mancini, fell in the last round in a draw against its guest, Bulgaria, with a goal each, while Switzerland did not play during this round.
Today's draw made the Italian team a record in the longest unbeaten series of teams, after equaling in the previous match with Bulgaria the record of Brazil and Spain unbeaten in 35 games in a row.