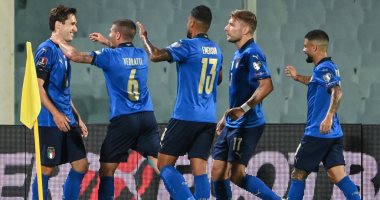 The Italian national team will be on a date with a record, when it hosts its Swiss counterpart, at 9:15 pm, tomorrow, Sunday, in the fifth round of Group C, of ​​the European qualifiers for the 2022 World Cup in Qatar.
Italy will become the longest unbeaten streak at the international level in the event of a win or a draw during the match against Switzerland, which will be the 36th in a row, in which the Azzurri have not received any defeat.
The Italian team had succeeded in equalizing the historical record for the longest unbeaten series of matches at the international level, which is owned by Spain and Brazil with 35 consecutive matches, after its positive draw last Thursday evening with its Bulgarian guest, 1-1, in the meeting that brought them together at the "Artemio" stadium. Frankie, in Florence, in the fourth round of Group C of the European qualifiers for the 2022 World Cup.
The "Opta" network, which specializes in monitoring statistics, stated that the Italian national team reached its 35th match in a row without defeat, equaling the record for the teams of Brazil and Spain.
The last defeat of the Italian national team against its Portuguese counterpart was with a clean goal, on September 10, 2018, in the group stage of the European Nations League, and then the series of 35 matches began, which began with a 1-1 friendly tie with the Ukrainian team
The Italian team leads Group C with 10 points, and the Swiss team is in second place with 6 points.
The Azzurri national team won the European Nations Cup "Euro 2020", on July 11, at the expense of its English counterpart, on penalties, after the end of the original and extra time in a 1-1 draw.